For an all-round good Wi-Fi
How Does A Wi-Fi Site Survey Help?
Good connectivity is a must in today's world
The demands on modern Wi-Fi networks have risen sharply. Doing a site survey is a crucial step towards a high-performance Wi-Fi. Plan your network professionally with ASCEND certified Survey Engineers.
Be professional and forward-thinking
Builders and architects never leave the planning for water and electrical connections to the gut feeling of others. Be just as professional, sustainable and forward-thinking with your network structure – Ascend will be happy to support you in this project.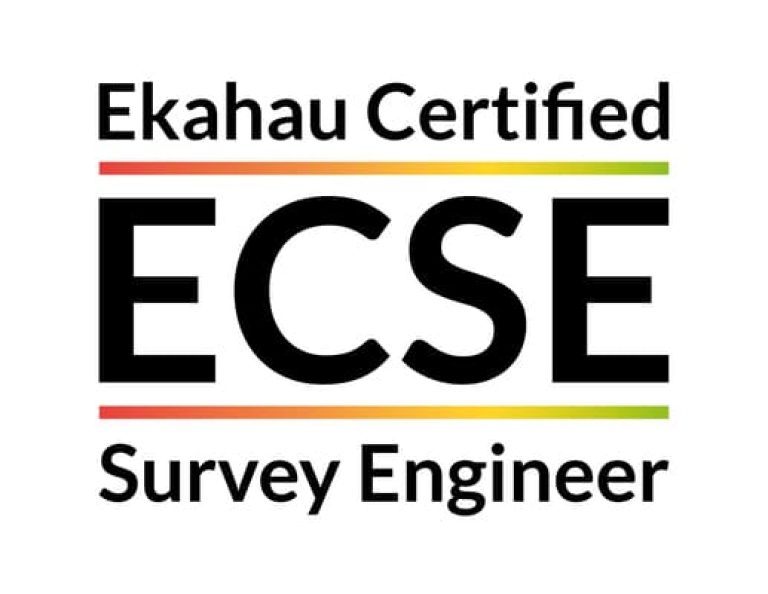 Wi-Fi site survey with tried-and-tested tools
ASCEND relies on Ekahau software – our technicians are certified.
Planned Coverage Prevents Unpleasant Surprises
A well-planned Wi-Fi coverage saves you a lot of hassle: unhappy tenants/users, costly repairs and repeated hardware changes, to name a few.
It costs you time, money and nerves. With planned Wi-Fi coverage, there are no such nasty surprises. You know what your infrastructure can handle and you do not overload it.
4 Steps to Your Customised Wi-Fi
Cleanly planned, carefully checked and precisely implemented
1. Requirements
2. Simulation
3. Site Survey
4. Documentation
1. Requirements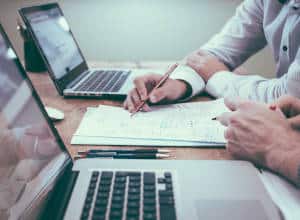 The first meeting is about planning the requirements for your Wi-Fi network and creating a corresponding profile. We can support you with our experience and work with you to develop the best approach.
Central questions here can be, for example:
What processes do you want to handle via Wi-Fi?
What amount of data should the Wi-Fi be able to provide?
What obstacles or disruptive factors are already known?
How many devices should be connected?
What type of devices are used?
2. Simulation
3. Site Survey
4. Documentation
More Insights –
What Does A Wi-Fi Site Survey Look Like?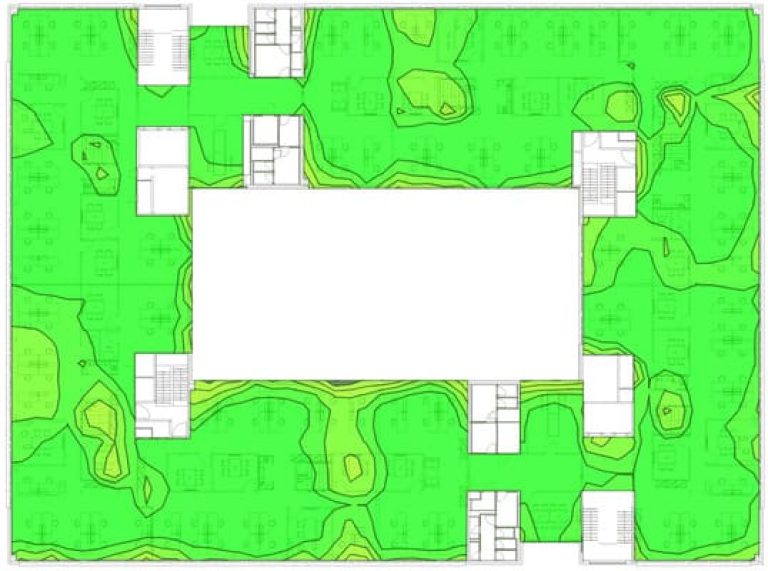 Those who only pay attention to the signal strength, think short-sighted
The signal strength is usually the most prominent measured value of Wi-Fi coverage. However, it should not be the sole focus.
Smooth Wi-Fi communication is comparable to a conversation.
Understanding the person you are talking to depends not only on the volume of the conversation. The environment also plays an important role. Next to a noisy construction site, you may have difficulty understanding each other even if you are already shouting. Similarly, the signal strength of the access point is not the only decisive factor. So how does this apply to Wi-Fi communications?
Here, too, it depends on existing disruptive factors in the environment. The signal-to-noise ratio is just as important as the number of access points in the same frequency range and the desired capacity.
Choosing the right access points – planning required
Not all Wi-Fi coverage can be achieved with every access point. Some access points cannot handle certain user densities.
A simple example:
You want to equip a hall with Wi-Fi and expect around 1000 people. All those present should be able to vote simultaneously. The selected access points serve a maximum of 50 devices. Aha, you think: "Then I need at least 20 of them". Why is this not so easy? The answer has to do with channel overlap.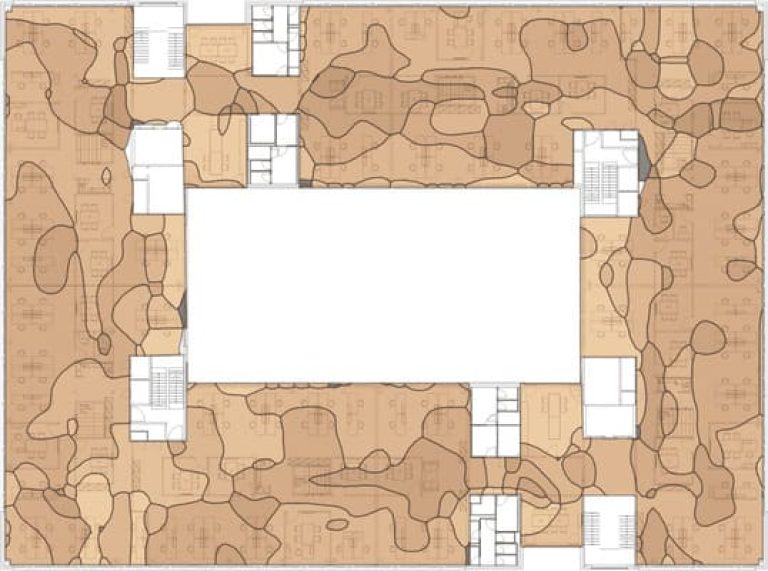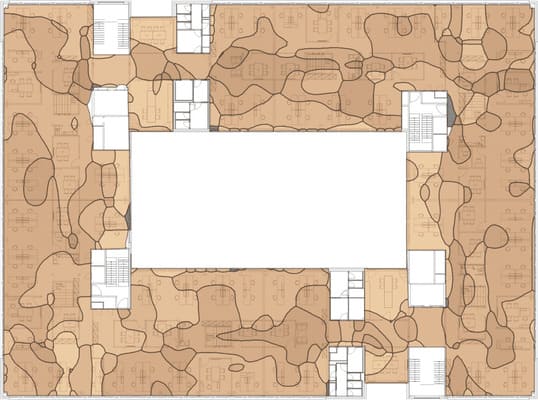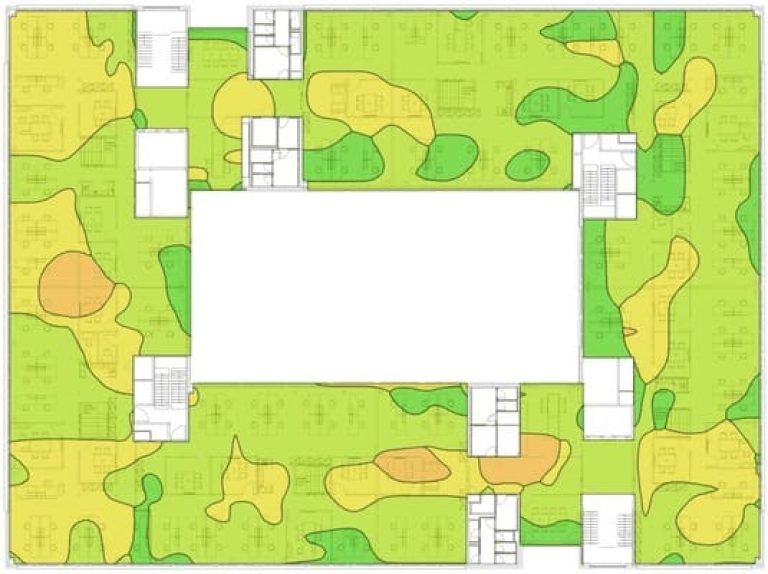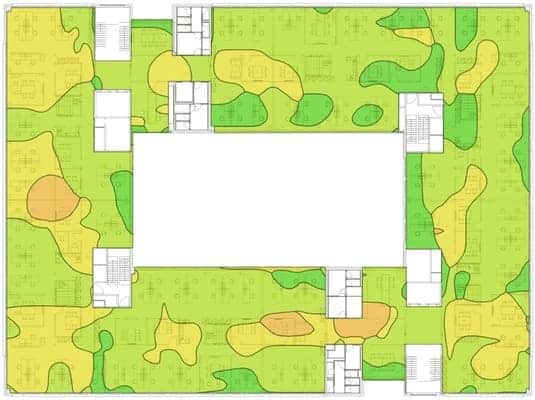 In the 2.4GHz range, you can only operate a maximum of 4 frequencies side by side without interference. This means that the access points interfere with each other at a certain point. The situation is better in the 5GHz range, where there are usually more frequencies available. As part of our Wi-Fi site survey, we will determine the optimal selection of access points and their locations for you.
We look forward to hearing from you!
Only one client can transmit per channel at a time. It takes time for data to be transmitted from different clients. Eventually, a channel, or the airtime on that channel, will run out. When planning, we take into account what the utilisation rate will be. If the airtime usage is close to 100%, the setup needs to be adjusted. For example, it may be necessary to choose different channels, use more or better access points. Our engineers weigh up all the pros and cons of possible adjustments to meet the network's requirements.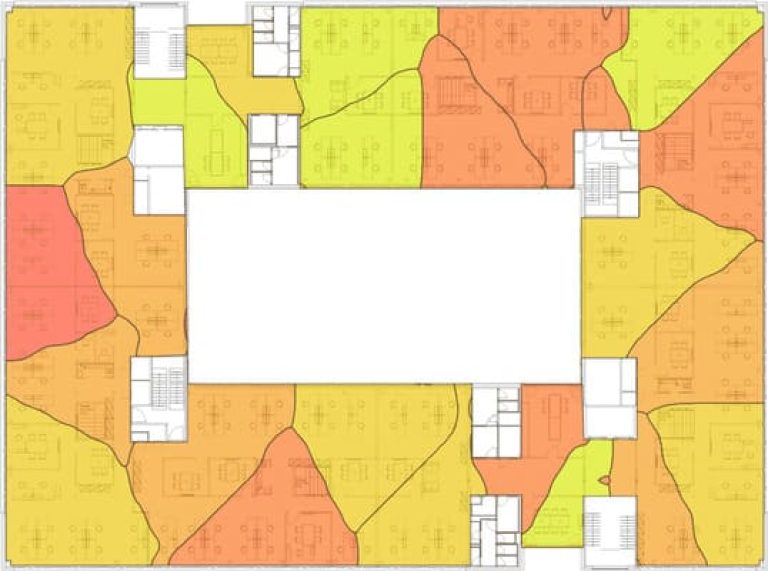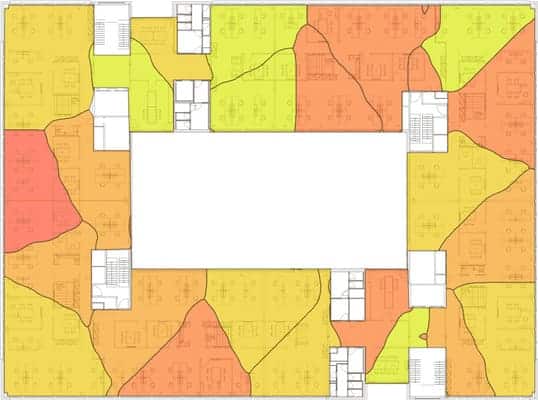 During a Wi-Fi site survey, a technician measures the key parameters of a Wi-Fi network in order to optimise the network. Measuring the signal strength is essential. But it can also be used to locate sources of interference and to plan the necessary access points. A Wi-Fi site survey is also used to check the reliability of a Wi-Fi simulation or to plan new Wi-Fi projects.
References for Wi-Fi Coverage
We are happy to hear from you!