Wi-Fi planning and simulation
Wi-Fi Simulation / Wi-Fi Planning
Why a Wi-Fi simulation or Wi-Fi planning beforehand?
Today, many electricians offer to install Wi-Fi without planning. However, there is often a lack of knowledge about this technology. Wi-Fi coverage, like sound and lighting, is a field in which it may be worthwhile to consult Wi-Fi specialists. It's not just about creating the necessary Wi-Fi coverage, but about determining exactly the Wi-Fi requirements. These include user density, Wi-Fi data transfer rates, external Wi-Fi sources of interference and, of course, Wi-Fi security. In the case of Wi-Fi for the home, or a single office, it may be sufficient to simply place "any Wi-Fi access point" somewhere. For larger workgroups, office buildings with several floors, hotels, schools or other objects, a Wi-Fi simulation before installing the cables is useful. This way, the cables can be laid right where they will be needed later and you get a good Wi-Fi with which you can work.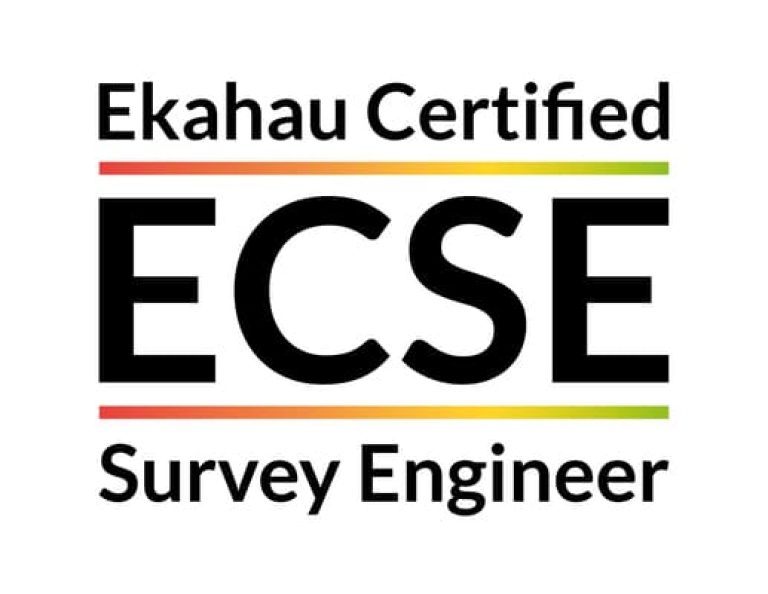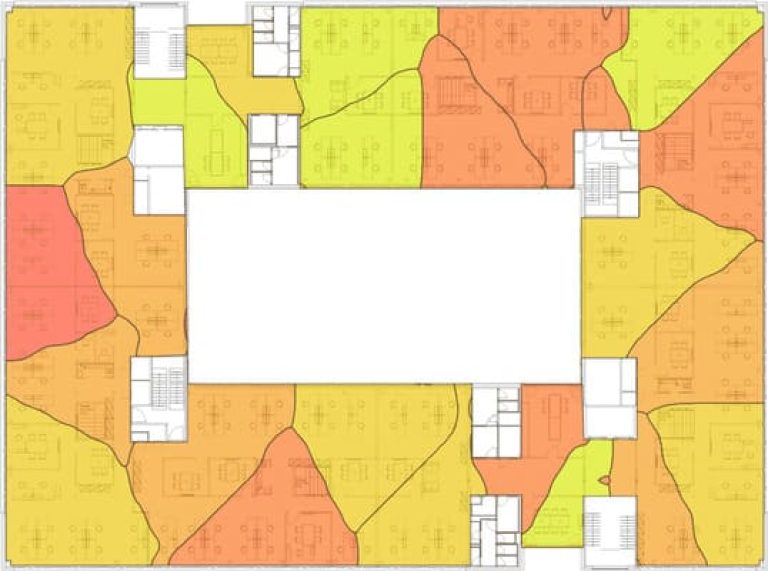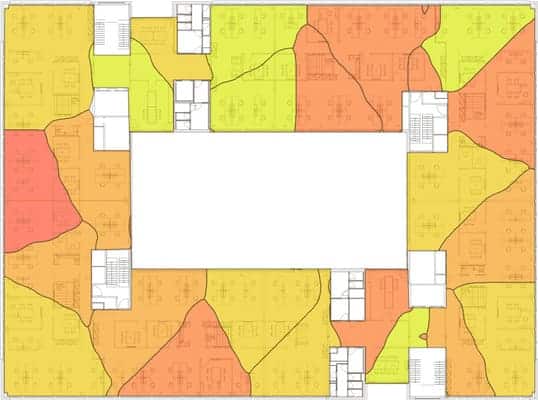 Ekahau Heatmap Wi-Fi Coverage
Broadcast time usage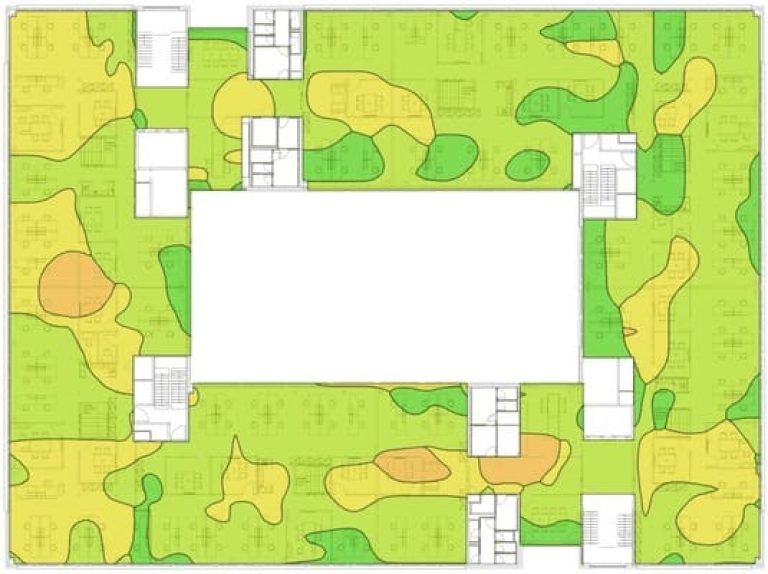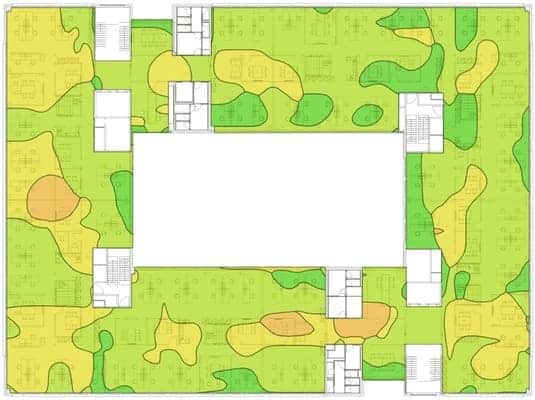 Ekahau Heatmap Wi-Fi coverage Channel overlap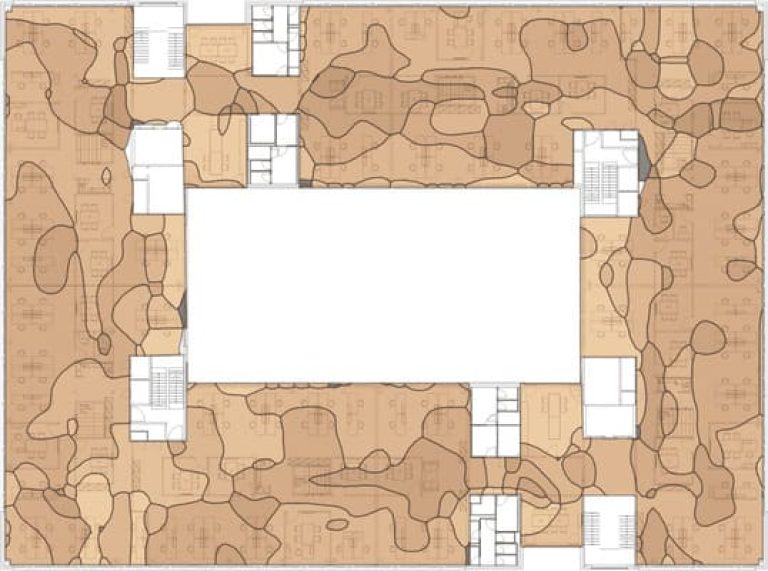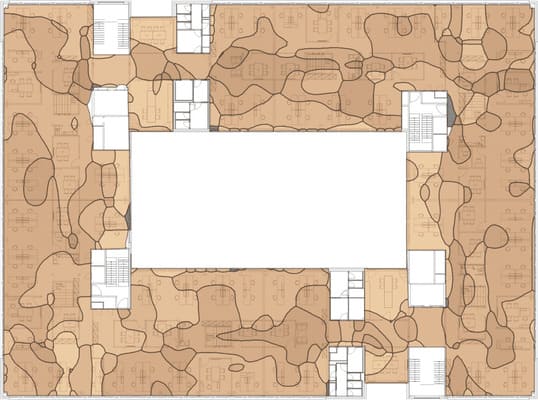 Ekahau Heatmap Wi-Fi Coverage Access Point Number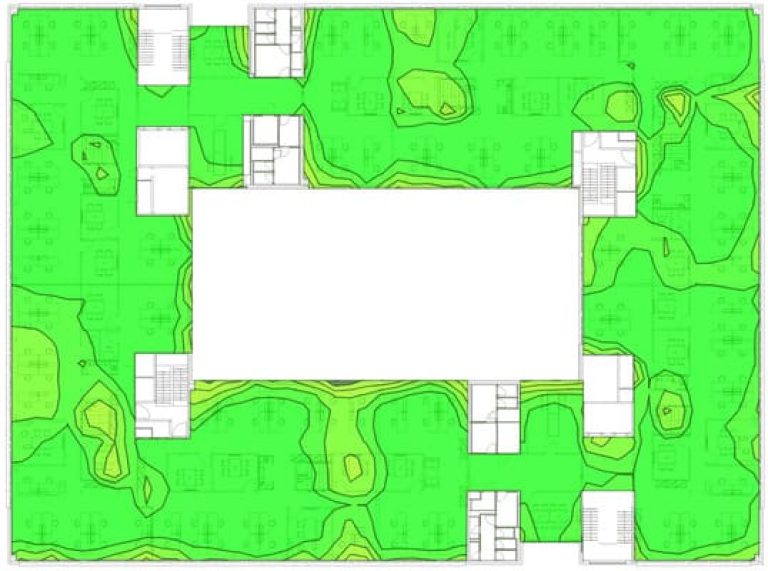 Ekahau Heatmap Wi-Fi Coverage
Signal strength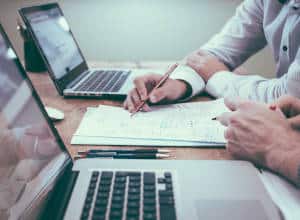 Our trained and experienced Wi-Fi experts plan your Wi-Fi, whether over several floors, outdoors, in a sports stadium or in a hotel. We advise you on the choice of Wi-Fi access points, placement and testing of Wi-Fi coverage. On request, we can also offer you the Wi-Fi completely as a managed service.
First of all, we need blueprints, escape route plans or the like for the Wi-Fi simulation in order to get an idea of the location for which we are to carry out the Wi-Fi simulation.
We also need the dimensions and building materials to be able to take the Wi-Fi attenuation into account. Here you can also draw in which areas the Wi-Fi is needed.
As soon as we have the plans, we need the requirements. What amount of data should be transmitted via the Wi-Fi? Where can the Wi-Fi access points be installed? What are the requirements re: Fire protection and optics must be observed. Would you like to use VoIP telephony via Wi-Fi, or "only" print and email?
We will also be happy to help you create the requirements profile.
Once the Wi-Fi requirements have been defined, we start planning. After completion of the planning, or in the case of larger Wi-Fi projects, after completion of individual phases, you will receive a report.
It may be useful, and we also recommend it, to perform a Wi-Fi reference measurement (Active Site Survey or Passive Site Survey). These can be used to measure the Wi-Fi attenuation values, identify sources of interference and, if necessary, adjust the Wi-Fi planning.
If you are unfamiliar with the damping or material properties, or if you are not sure, the measurement can also be carried out before the simulation. If these values are known during the simulation, the measurement will confirm the simulation.
After completion, you will receive documentation for your records, which you could also use to configure the Wi-Fi access points. It documents and graphically displays all important Wi-Fi key figures.
A Selection of Our References for Wi-Fi Simulations
We are happy to hear from you!